TERMS & CONDITIONS
PAYMENTS
Payments within the UK are accepted by Debit or Credit Card, Paypal or Bank Transfer. Within Europe payment can be made by Credit/Debit Card , PayPal, or International Bank Transfer only. Payments from the Rest of the World must be made by Credit/Debit Card or PayPal. Payments should be made payable to TAOS Trading Ltd or sent to sales@taostrading.net if paying by PayPal.
DELIVERY
We send items by Royal Mail or Courier normally within 1-2 working days after cleared payment is received. Please however allow up to 28 days for delivery of your order.
Please note that whilst we will dispatch an item promptly it is out of our hands as to when the mail service will deliver your item and as such we will not be responsible for the date it is delivered.

REFUNDS & RETURNS
All refunds/exchanges must be requested by email within 7 days of receipt, and sent to the address on the invoice. Items must be returned in the condition in which they are received or no refund will be given unless the item is faulty. If when inspected we find that the item you have received is faulty we will also refund your return postage costs. All items are returned at the buyers own expense and we recommend you use a signed for delivery service for your return. Your statutory rights are not affected in any way. If you believe your order has been lost in the post, and you have allowed 28 days for delivery, please contact us for a LOST IN THE POST FORM which needs to be signed and returned to us for a replacement or refund to be made.

ACCURACY
We make every attempt to ensure that our products are accurately described, please let us know if this is not the case. We reserve the right to substitute brands, and as such photographs are only a representation of the product sold. We can not accept responsibility for any third party information or links within our site, nor the accuracy of the information they contain.

YOUR PRIVACY
TAOS Trading Ltd respects your privacy and will protect your personal details. We will not ass on any of your contact or billing information to any other party. Nor do we see or store your payment details as these are all handled and secured by our reputable card payment processor which processes your payment for us when you checkout. We will not share or sell your information to third-parties and we will not send any marketing emails to you without you opting in, you can opt out at any time from receiving these emails. Only your order and billing information such as name, address, email address, payment method and products ordered are stored on our secure servers.

WEEE REGULATIONS
The Waste Electrical and Electronic Equipment (WEEE) Directive is now UK law. The legislation aims to make producers pay for the collection, treatment and recovery of waste electrical equipment. The regulations also mean that suppliers of equipment like high street shops and internet retailers must allow consumers to return their waste equipment free of charge.
The amount of WEEE we throw away is increasing by around 5% each year, making it the fastest growing waste stream in the UK.



Much of the UK's WEEE ends up in landfill, where the lead and other toxins it contains can cause soil and water contamination. This can have a harmful effect on natural habitat, wildlife and also human health.

Many electrical items that we throw away can be repaired or recycled. Recycling items helps to save our natural finite resources and also reduces the environmental and health risks associated with sending electrical goods to landfill.

Under the WEEE Regulations, all new electrical goods should now be marked with the crossed-out wheeled bin symbol shown below:
For example, if a customer bought a new torch from us we would accept their old torch and prevent it going into a landfill site by disposing of it safely. Customers must return their WEEE item to us within 28 days of purchasing their new item.
You may return your unwanted items (at your own postage cost) for recycling to us at

WEEE Returns
32 Reading Road
Woodley
Reading
RG5 3DB
TAOS Trading Ltd are obliged under these regulations to offer our customers free take-back of their WEEE on a like-for-like basis when they buy a new Electrical or Electronic product from us.
Distributors of new Electric and Electronic Equipment (EEE) have a part to play in reducing the amount of WEEE going into landfill sites.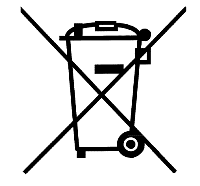 Goods are marked with this symbol to show that they were produced after 13th August 2005, and should be disposed of separately from normal household waste so that they can be recycled.
RECYCLE YOUR OLD BATTERIES
You may return used household batteries back to us at the address above (at your own cost) or you can find your local centre online.
Alternatively, you can find your local waste portable battery recycling facility at www.recyclenow.co.uk
Most supermarkets and shops that sell batteries will have collection bins for used batteries, and some town halls, libraries or schools may also set up collection points. End-users may find stores in their local area more accessible.